Today, more than ever before, we face an almost constant bombardment of images, messages and ideals, from the websites we visit, the adverts we see, products we buy and magazines that we read. The representation of the human form delivered to us by these sources has a huge effect on the way we percieve our bodies and our appearances, and when a homogenous vision of the 'ideal' form is presented to us hundreds, even thousands of times a day, it can be very damaging to our body confidence if the way we look differs from this very narrow conception of beauty.
Of course, this phenomenon is a widely acknowledged one and most of us are now well versed in the language of body dismophia, fear and even hatred. It seems now to be a weekly occurance that some brand or other is pulled up by the advertising standards agency for using misleading images, or even by individuals petitioning their favourite magazine or company to represent them – their customer – by celebrating diversity and diverse beauty. Of course, identifying and understanding those instances of media that could be damaging is part of the path toward a brighter, healthier, more diverse future, but it is also hugely important to recognise those who have already followed that path and are pioneering a new way, a better way of communicating what it means to be human.
The inaugural Body Confidence Awards aims to do just that, highlighting the efforts of industry and community thought leaders who are re-writing the rule book on how to communicate in a responsible, considerate way that promotes healthy body and beauty ideals. As All Walks Co-Founder Caryn Franklin remarked to attendees of the ceremony, people in the fashion industry – and in the creative industries generally – genuinely want to promote and celebrate health, happiness and beauty, both inside and out. These awards are an opportunity to show them how it's done, to offer a guide to best practice and to assure them that their efforts will be received joyfully by both their industry colleagues and their customers.
There is another way, a better way, and this is how it's done:
ADVERTISING AWARD
| WINNER | Dove "Growing Up" TV Advert
| THEY SAY |
In 2010, Dove commissioned its biggest global study ever "The Real Truth about Beauty Revisited". This study revealed some shocking statistics:

• 53% of girls in the UK have avoided certain activities because they feel bad about their looks.
• 22% didn't go to the beach or pool.
• More than 1 in 5 girls in the UK avoided physical activity or exercise because they feel bad about how they look. Almost the same number avoided shopping.
• 16% didn't offer an opinion.
• 1 in 10 didn't go to the doctor.
• Nearly 1 in 5 didn't go on a date.

To support the brand's Social Mission, Dove will continue to equip girls with self-esteem education through workshops and the online tools that are available. Dove has reached over 800,000 young people in the UK so far and aims to reach 1 million by the end of 2012 with your help.

Dove will invest a minimum of £250,000 in the provision of self-esteem education in the UK in 2012. If more than 20 million packs are sold, Dove will contribute an additional £10,000 for every 1 million extra units sold in the UK from 26th March 2012 to 15th May 2012.

The self esteem education will be delivered via a 1 hour workshop in schools in partnership with Beat, who will facilitate their delivery, and teachers can apply for teacher training and/or self esteem workshops via the Dove website.
| NOMINEES |
---
BEAUTY AWARD
| WINNER | Boots No7 'Ta Dah' Range
For their decision to eschew retouching and for celebrating the idea of real beauty.
| THEY SAY |
"No7 has always been a brand committed to making all British women look and feel beautiful. This dedication requires a deep understanding of British women, their thoughts and feelings towards beauty.

What we want to show with the 'Ta-Dah' campaign is a moment in time that all women have, when they know they look and, perhaps more importantly, feel their absolute best."
- Amanda Walker, head of No7
| NOMINEES |
---
BROADCAST / PRINT / PUBLISHING AWARD
| WINNER | Caitlin Moran for her book 'How to be a Woman'
Caitlin Moran accepts the Publishing Award for her book 'How to be a Woman'
at the inaugural Body Confidence Awards, April 2012 (Image, Annabel Staff)
Best selling book that combines contemporary feminist observations about bodies, beauty and what it is to be a woman in an appearance oriented society with page turning humour.
| NOMINEES |
---
CAMPAIGNER AWARD
| WINNER | Changing Faces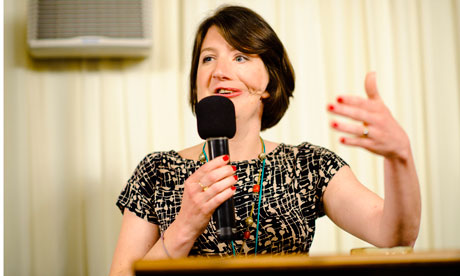 Changing Faces' Alison Rich accepts the award (Image, Annabel Staff)
For their fight to change public attitudes towards people with disfigurements and their ongoing support for those with disfigurements and their families.
| THEY SAY |

Changing Lives
We aim to help individuals lead full and satisfying lives. We give practical and emotional support to adults, children and their families. We also provide training, support and advice to professionals in health and education. Find out more about our services for adults and families.

Changing Minds
We aim to transform public attitudes towards people with disfiguring conditions. We promote fair treatment and equal opportunities for all, irrespective of their appearance. We campaign for social change: advocating for more integrated health services; influencing schools and workplaces to create more inclusive environments; and lobbying for anti-discrimination protection and enforcement.
| NOMINEES |
---
CENTRAL YMCA HEALTH SPORT AND FITNESS AWARD
| WINNER | Virgin Active's Oomph Campaign
For showing a range of shapes, ages, sizes and ethnicities in their campaign, and for promoting the more intrinsic benefits of being physically active.
| THEY SAY |
"We are thrilled that Virgin Active's Oomph campaign has been recognised by these awards. One of our core beliefs is that the health club industry should be inclusive no matter what gender, age or level of fitness. We pride ourselves on offering something for everyone at the clubs and outside at events such as the Virgin Active London Triathlon."
- Steve Dick, Sales and Marketing Director at Virgin Active
| NOMINEES |
---
EDUCATION AWARD
| WINNER | 'Body Image in the Primary School' by Nicky Hutchinson and Chris Calland
For recognising that there was no material for teachers to use in the classroom to confront body image issues, and for writing an invaluable book allowing schools to deliver high-quality lessons on this topic.
| THEY SAY |
"Children face exposure to the media on a far greater scale than ever before. They watch up to 40,000 adverts every year. Although there are initiatives to address body image with adolescents, we were aware that there was very little available to support younger children. Primary schools have a critical role in helping them develop a healthy body image through positive intervention."
- Nicky Hutchinson
"When we watch television or look at magazines with our children we should encourage them to question the images they see. We should reassure our children about their appearance and talk positively about them. It's important not to make negative comments about their weight or over-emphasise the importance of looks. We shouldn't make negative comments about other people's physical appearance or complain about 'fat' or 'ugly' parts of our body in their hearing."
- Chris Calland
| NOMINEES |
---
ALL WALKS BEYOND THE CATWALK FASHION VISIONARY AWARD
| WINNER | Mark Fast, Designer
For using models varying in size, shape and ethnicity in his catwalk shows at London Fashion Week since September 2009.
Mark Fast accepts his award from All Walks' co-founder Caryn Franklin (Image by Annabel Staff)
| THEY SAY |
"I'd like to thank the Body Confidence Awards for acknowledging me. As a designer I care about the women that wear my clothes, and big thanks to All Walks Beyond the Catwalk for their encouragement. It is very important to deliver the technical aspects – a 'look' and a quality of make – but I also want to make each wearer of my clothes feel empowered and affirmed. I want to celebrate women and make them feel good in my clothes."
- Mark Fast, fashion designer
| NOMINEES |
---
MUMSNET AWARD FOR PROMOTING BODY CONFIDENCE IN CHILDREN
Voted for by Mumsnet members
| WINNER | Pink Stinks
| THEY SAY |
"Pinkstinks is a campaign that targets the products, media and marketing that prescribe heavily stereotyped and limiting roles to young girls. We believe that all children – girls and boys – are affected by the 'pinkification' of girlhood. Our aim is to challenge and reverse this growing trend. We also promote media literacy, self-esteem, positive body image and female role models for kids."
| NOMINEES |
---
RETAIL AWARD
| WINNER | Debenhams
For their ongoing Inclusivity Campaign showcasing imagery that is inspirational and realistic by using models who are older, curvier and, in Shannon Murray's case, visibly disabled to inspire modern day British women.
| THEY SAY |
"We cater for women of all shapes and sizes, young and old, non-disabled and disabled so we wanted our windows to reflect this choice."
- Michael Sharp, Debenhams' Deputy Chief Executive
| NOMINEES |
---
CELEBRITY AMBASSADOR OF THE YEAR AWARD Decided by public vote
| WINNER | Davina McCall
***
| | |
| --- | --- |
| | Charlotte Gush is a freelance fashion writer, blogger and editor, as well as the Online Commissioning Editor for All Walks.She has previously spent 6 months working for All Walks at the London office as a social media, marketing and production intern.Charlotte writes a fashion, street style and personal style blog, CAVACOMA.com, with a dedicated Facebook fanpage here, and a Twitter account @CavaCharlotte |