The average British woman is a size 14. Yet the average model, the very platform for showcasing the clothes that 'everyday' women are going to buy, is a considerably smaller size 6. Surely, there's something not right here? How can we judge fashion when we know that it's not going to look the same on us as it does on the model? Attempting to close the gap is LOOK magazine, who recently embarked on a mission to recruit a curvy supermodel to star in an editorial shoot between their coveted pages. Potential applicants had to be a size 12 or above.
A team of fashion insiders, including LOOK editor Ali Hall, and plus size model Crystal Renn scoured the country for a girl whose curves could steal any runway show. Nineteen year-old Lyndsay O'Hagan was announced as the winner during London Fashion Week.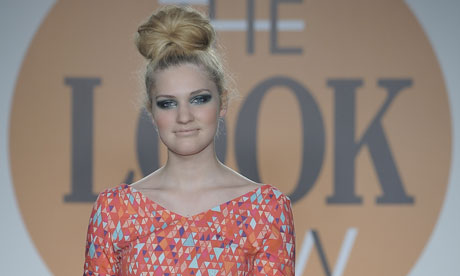 So, is the future of fashion a little more voluptuous? Can we expect to see more 'real women' with 'real' figures modelling clothes for us? One thing is for sure: those first few steps Lyndsay took on to the catwalk were significant, they were promising, and they were definitely a long time coming.
***
Post by Erin Cardiff
Erin is a second year journalism student at the University of Sheffield. She is currently applying for masters courses in New York to study magazine journalism. Erin has two blogs, Frocking Hell and Erin Actually . You can find her on Twitter @erincardiff.

***

Editor Charlotte Gush, on Twitter @CavaCharlotte